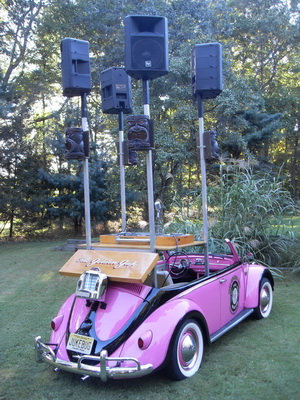 PARTYJUKES ® serves Morris County New Jersey and surrounding areas when schedules permit. Short notice OK!
Using The ROCKOLA CD Jukebox!
The jukebox is very simple to operate. It works in exactly the same way as a jukebox in a tavern, except you do not need to feed it with any money!
The ON/OFF switch is at the back of the machine, above the power chord. It is a black "flick" switch.
Once the machine is turned on, the computer takes about ten seconds to re-boot and the machine is ready to go.
DO NOT MOVE THE MACHINE from the area it has been set up in NOR AFFIX ANY DECORATIONS TO IT, please!
MUSIC
The music is arranged in chronological order; from early music to the left with the newest music to the right. The sections are color-coded to help you with your selections. To select a song, turn the menu pages with the green "TURN"buttons on the front, simply press the two digit CD number on the top of the page followed by the two digit track number. The selection will appear in the panel to the right of the numbers. The jukebox will play the songs in the order they are put into the machine.
Should you wish to play a WHOLE CD all the way through, simply press the CD number and '00' and this will play that CD from start to finish.
CHANGING THE PLAYLIST
Should a track be playing that you don't want to hear any more, you can skip to the next track picked by pressing the cancel button AT THE REAR OF THE MACHINE. The jukebox will then go on to play the next track entered.
Should you wish to hear an important song straight away, you can turn the machine off at the flick switch above the power cord and turn it back on again. The jukebox will take about 10 seconds to re-boot then you can start again. This action enables the jukebox to be reset, but wipes out its memory so any songs you previously selected will not be played.
VOLUME
The volume controls are on the back of the machine. When you are playing music with a heavy bass (such as the newer music) and the volume is very high, this may cause the CD to "skip". If this is the case, just back the volume down a little.
One other thing to note is that if buttons are pressed at random (for example, if small children "play" with the machine!), then the machine will need to be re-booted if you find the jukebox is trying to pick up "empty" CD spaces on the carousel.
These instructions are also taped to the back of ALL our machines.
-Gup Gascoigne, Owner
BACK OF MACHINE AS YOU LOOK AT IT:
(DO NOT TOUCH the center two buttons!)
VOLUME UP o o o CANCEL
VOL DOWN o o o MUTE (for announcements - press also to release)